1. What actually happened [+Idrive ID]
The summary log says many files failed to backup and classifies the backup as a failure. But the detailed log, which identifies the files concerned, show far fewer failures, sometimes none. [Idrive ID ID155378211].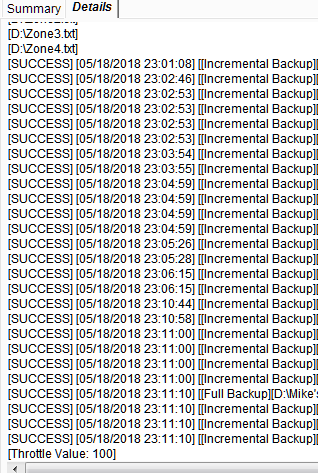 2. What you did to cause that to happen, step by step
i) Request a scheduled backup via the scheduler or interactive backup
ii) Examine the logs after the backup is completed

3. If you repeat these steps does the same thing always happen
Almost always, yes

4. What you expected or wanted to happen
The detailed log should show the same number of failed files as the summary, and should specifically list the file and path for each failed file.

5. Operating system, whether 32 or 64bit, and service pack number
Windows 7 Ultimate, 64bit

6. Idrive full version number
6.7.1.17

7. Any backup, security, or sandbox software installed now or previously
Yes Comodo CCAV, formerly Comodo CCS/CIS. Windows backup.

8. Current Idrive settings
https://dl.dropboxusercon....-46-18.png
https://dl.dropboxusercon....-48-43.png

The exclusions and backup lists, though not shown for security reasons, do not overlap.
Other settings (server, synch etc) are at defaults AFAIK.

Whether backup was online or offline
Online

9. Any other relevant information (eg Your guess at the reason for the bug, how you have tried to fix it)
I tried using the Settings ~ Verify Now facility, which according to Idrive updates the backup set to reflect the files currently on disk. This did not make any difference.
I ensured there was sufficient storage allocation for volume shadow copy
I have observed that backing up .pst files particularly those with @ in the files name can cause detailed errors to be logged
I have also observed the same for Vmware .lck files. But neith really can explain this issue as far as I can see.
Last edited by Mouse (2018-05-20 14:30:43)