1. What actually happened [+Idrive ID]
Backup of Outlook 2010 Outlook.pst fails about once a week with 'Failed verification -- update retained' Error. [ID292711772]

From detailed log:


From summary log:


There are often multiple permission denied messages associated with this error. I have seen up to 13 per file.


2. What you did to cause that to happen, step by step
i) Make sure Outlook 2010 is open with a .pst file loaded
ii) Request a scheduled backup via the scheduler
iii) Run for a week examining the logs after the backup is completed

3. If you repeat these steps does the same thing always happen
About once a week.

4. What you expected or wanted to happen
No errors in the log, open files are backed up sucessfully

5. Operating system, whether 32 or 64bit, and service pack number
Windows 7 Ultimate, 64bit

6. Idrive full version number
6.7.1.21

7. Any backup, security, or sandbox software installed now or previously
Yes Comodo CCAV, formerly Comodo CCS/CIS. Windows backup. Comodo Backup (client not loaded).

8. Current Idrive settings (redacted for privacy if appropriate)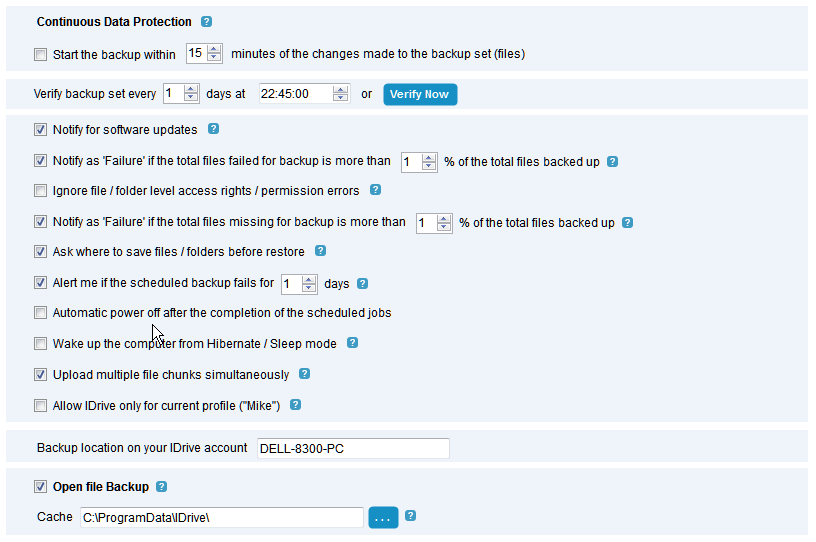 Whether backup was online or offline
Online

9. Any other relevant information (eg Your guess at the reason for the bug, how you have tried to fix or analyse it)
None. Error message is not clear enough to guide investigation.
Last edited by Mouse (2018-06-17 16:26:33)